Every time we announce a new pregnancy, we get this expected question:
So then…is this the last one?
We have been getting this question ever since I was expecting #4.  I'm very used to this question.
You should all know that the very worst time to ask me this question is in my first trimester!  when I'm feeling so yucky that I don't even like to get out of bed!  When all I want to do is eat because that's the only thing that eases the nausea! When none of my clothes fit, and I feel so frumpy during my day that I never wear make-up and I've been known to go every 3 days or so without washing my hair!
The answer that I scream in my head during these first few weeks of pregnancy is YES! YES!  This is the LAST time I'm going through this awful feeling…you bet this is the last one!
But then…ask me that same question when I'm in my fifth month of pregnancy, and a little belly is sticking out, and I'm in some trendy maternity clothes, and I can feel the kicks and small movements of the sweet new life inside…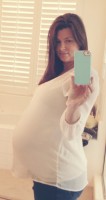 Or ask me when the baby is born and I'm hugging my new baby to my chest….
Or ask me when I have a sweet 5 month old whose favorite person in his world is his mama….
Or ask me when I have a wobbly 12 month old, learning to walk, and trying very hard to chase after all his older siblings….
Or ask me when I have a 14 month old who says "ma ma" for the first time…
And the answer will always be, "Gee, I hope not!  I hope this is not the last one!"
And I'll really mean that.
Because it's all just too much fun, and so special, and always always such a blessing to our family.
But don't ask me that question during my first 3 months when I'm feeling so yucky.  I am not to be taken seriously during this time, lol.
Oh, and also don't ask me that question during the crowning stages of the birth.  The answer at that time will always be, "ARE YOU KIDDING ME?!!   YES!  THIS IS THE LAST ONE! "    I like everything about labor, except that last stage!  I'd gladly skip that part if I could….but….it's the most important part, lol.