Today we took some of the younger kids to the Pumpkin Patch.  Lucky for me it was a nice, cool day (for a change!) and so I was able to hang out longer than I would have had it been 90 degrees out.   These days this pregnant mama's feet have been swelling, and I get tired so easy, so a hot day at a pumpkin patch would have really done me in.
Normally when I take the kids to the Pumpkin Patch each year, all the photos are all about them.  I can't even remember taking a photo of myself while at the Pumpkin Patch.  But today?   I had to get a photo of Aaron's first "visit" to the pumpkin patch, and since he's inside of me…well,  that means I had to get in the picture, too.
I don't know why I never did this before – taking pictures of myself at the Pumpkin Patch.  It was nice getting some fall photos of myself, and with my husband, too.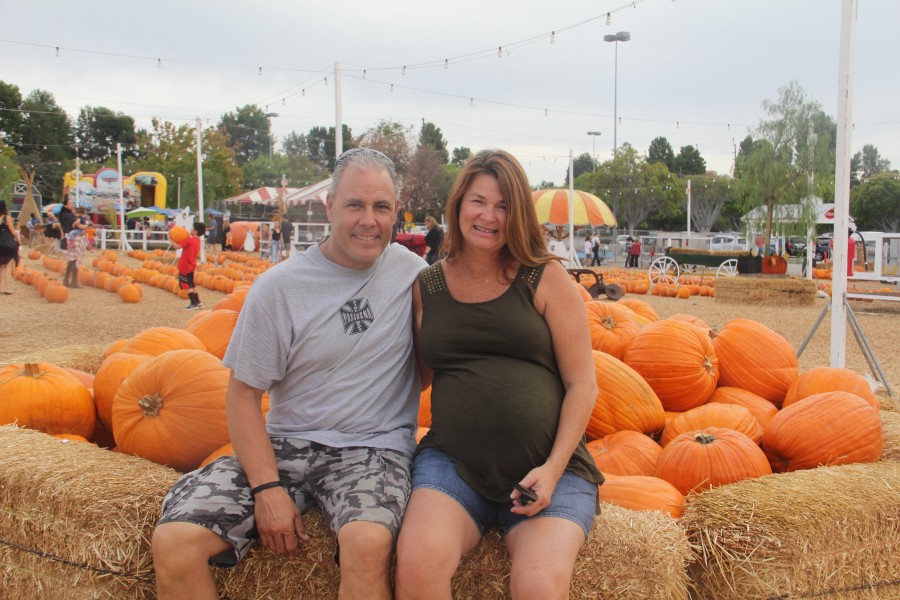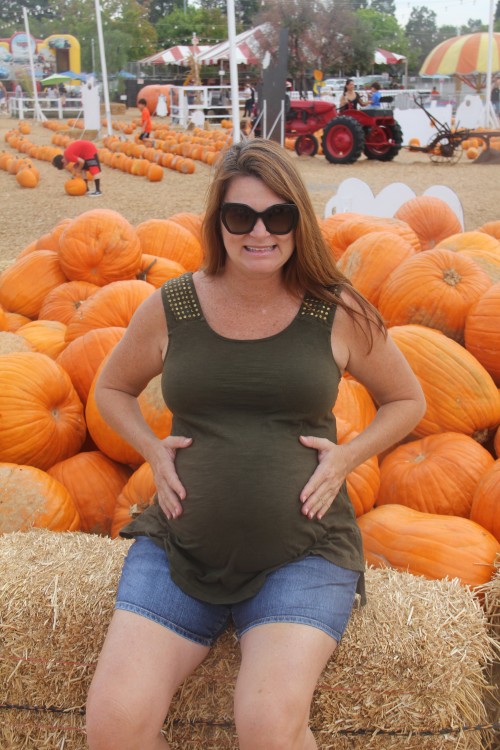 Me with my big, round pumpkin belly.
We bought some tickets for the kids to ride a few of the rides.  I say "a few" because the prices are insane, so we limited them to three rides each plus a visit to the petting zoo. We only took four kids with us, so three rides plus a petting zoo was within our budget.  Had ALL the kids come with us, we would have told them to bring their allowance money with them.  (Okay, I'm kidding.  They don't get allowance money.)
Aiden's favorite ride was the train ride, or as he calls it, "The Choo Choo"   He was the only passenger on the train, so he got to sit in the best seat ever!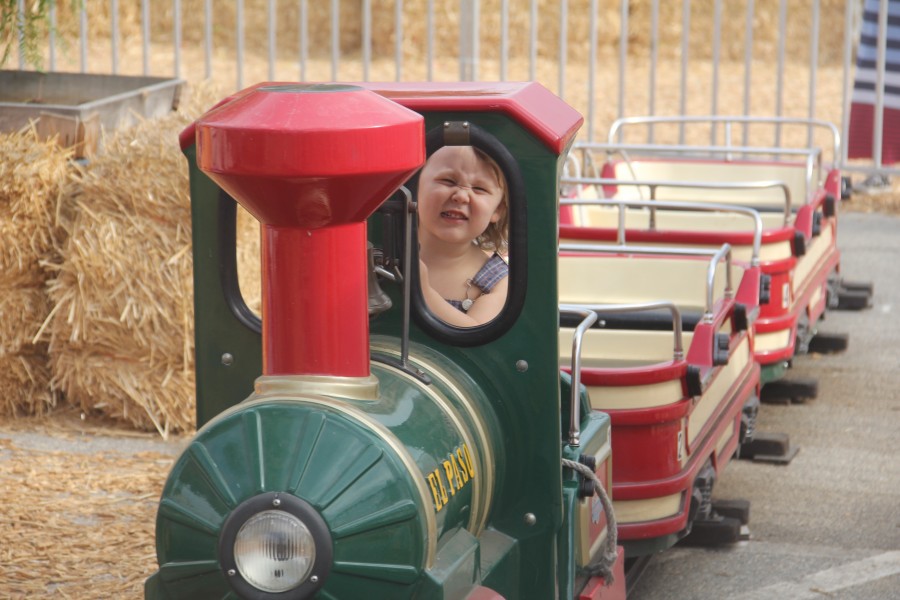 And he got to ring the bell by pulling on the chain.  Toot! Toot!  went the little green engine….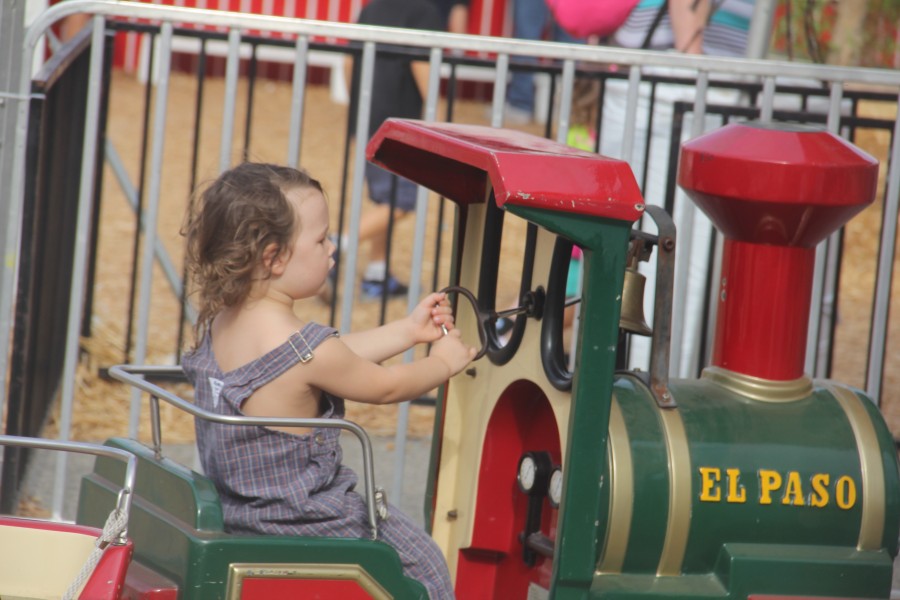 He loved this ride, too.  Aria had to ride with him so she could do the steering.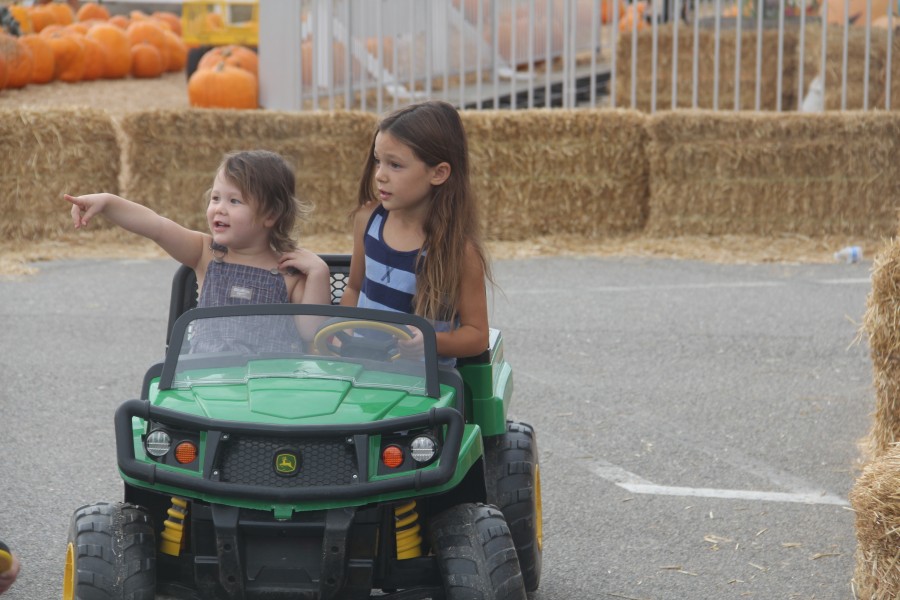 Every year we come to this Pumpkin Patch, and every year I get this picture of kids sitting on these three "horses" in front of the teepee.  Same place, same set up, but sometimes different kids.  They all eventually outgrow this photo.  No teenager wants to be seen riding a bale of hay that's set up to look like a horse.  Not cool.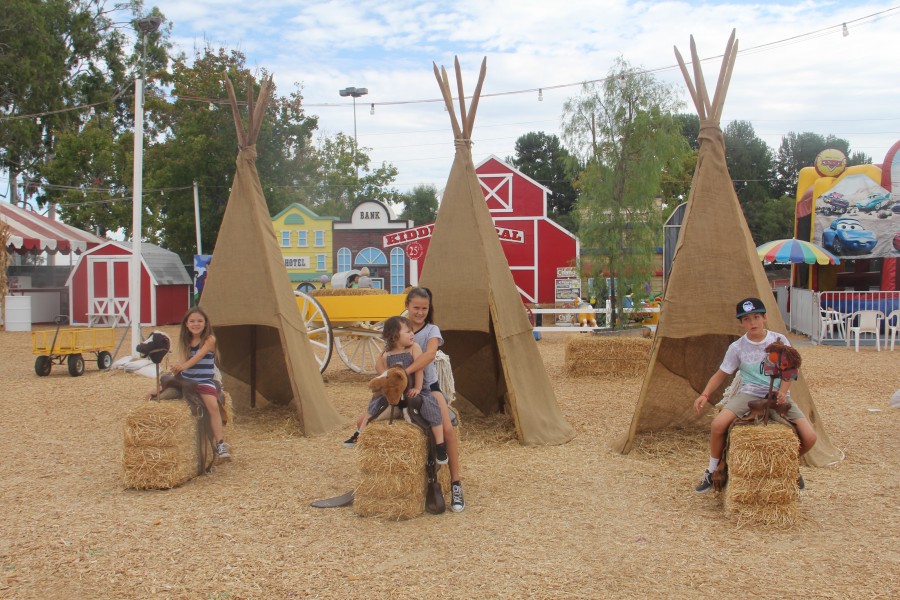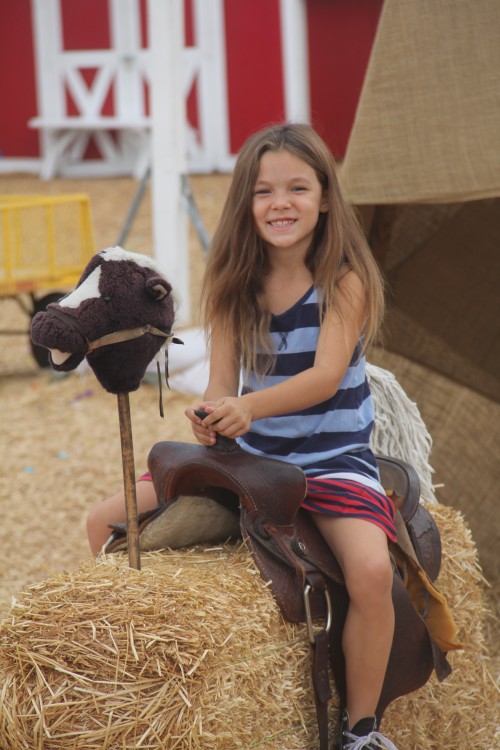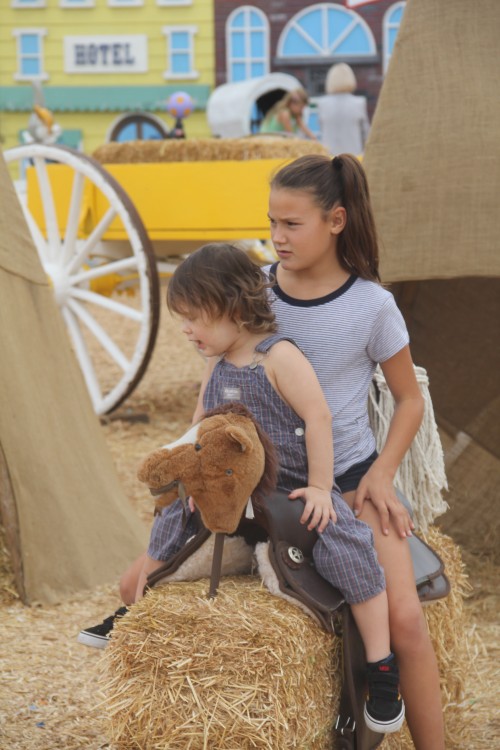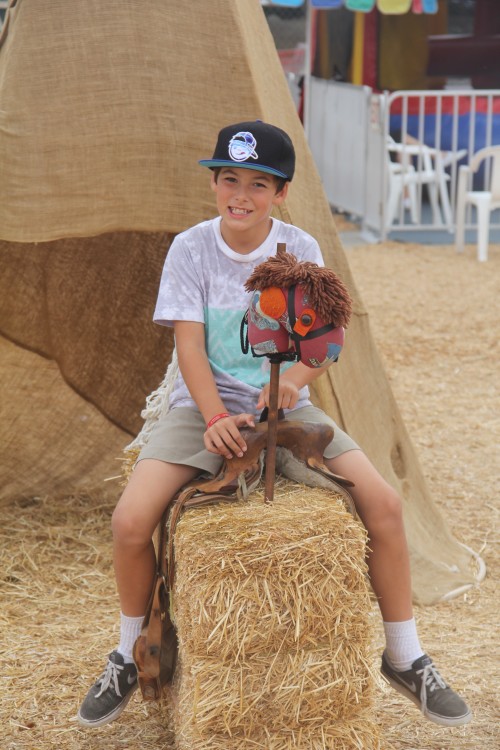 These two had way too much fun on this boat ride.  The boat didn't just go around and around, either.  It bumped up and down, up and down, and it really went fast.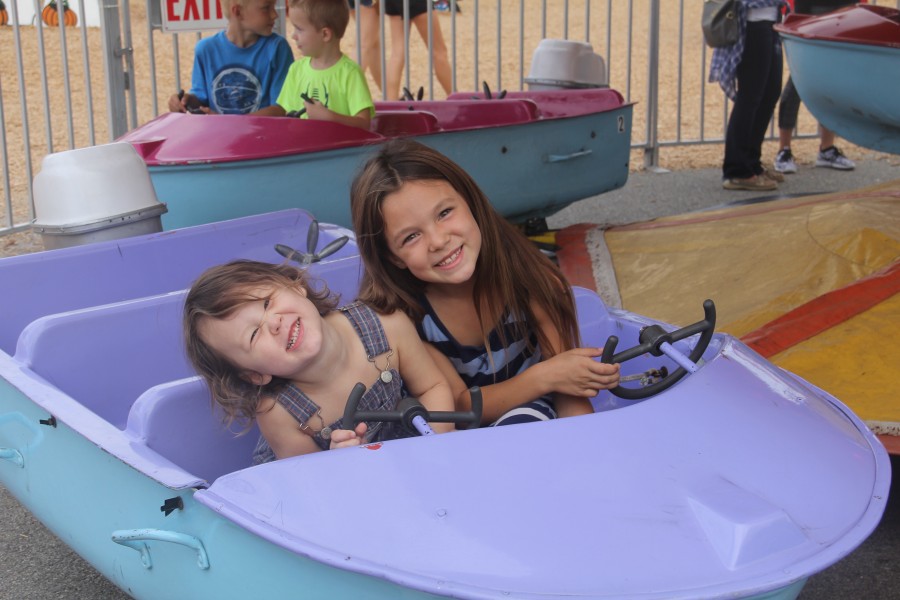 I was thankful that Aria was next to Aiden, that was how fast it went.  I was actually nervous that he'd get bumped out of his seat.  I swear, these rides….probably put together in a hour and operated by people who … well, let's just say you can't help but wonder where they find these guys.
Andrew, age 9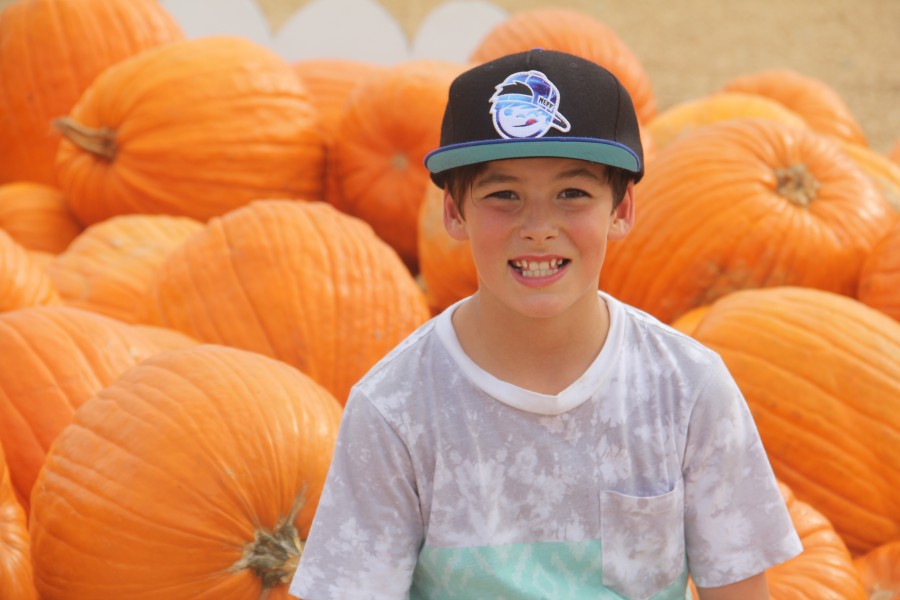 Getting all four of them to sit still for a photo was impossible.  It just didn't happen this year.  Oh well.  It was mostly Aiden's fault.  All he wanted to do was run from place to place.  Two year olds!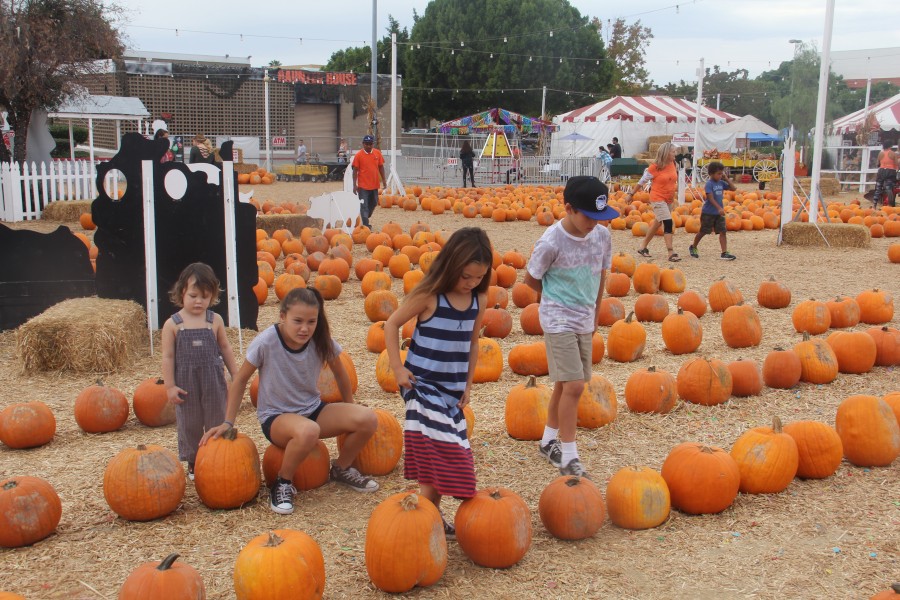 All the running around finally did him in.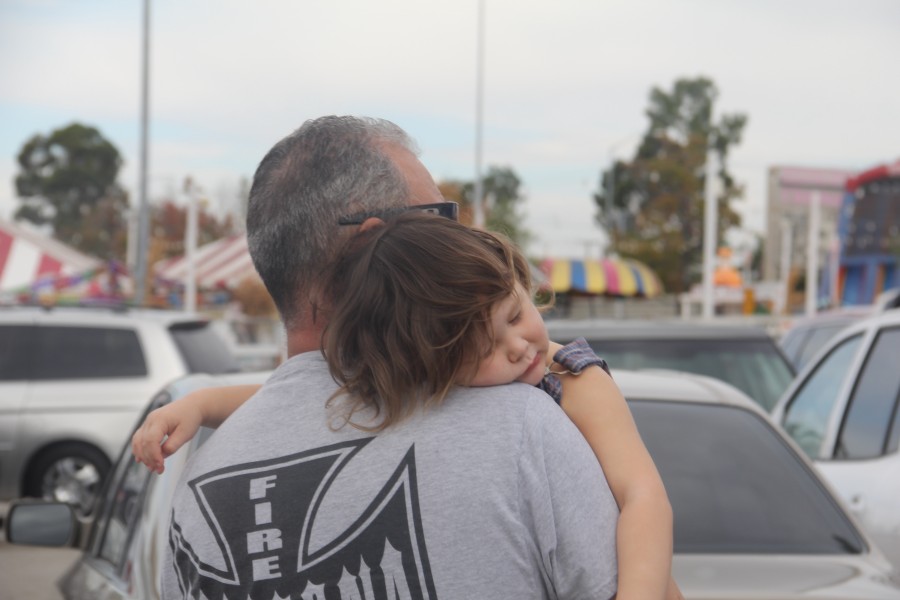 Good-bye, Pumpkin Patch!  We will see you again next year!