Aaron's first birthday came and went. A full year. How could it be a year already?
Over the past year I have gone through many emotions, so many times over: sadness, relief, guilt, regret, thankfulness, doubt, joy, disbelief, anger…repeat, repeat, repeat. All those emotions and the repetitive cycle are a part of the grief. These emotions are to be expected, and I knew going in to this loss that I would be feeling these things, because I have read and have been told that I would be feeling these things.
But one thing that I feel that I was not told about and definitely not expecting to feel is the connection to Aaron. Death has not changed this feeling. I feel just as connected to Aaron now as I did when he was alive and the same as I do with my living children. Here is the best way I can explain it: my daughter Afton (21) has grown up and is no longer living here with me. She's moved out. Yet, even though she's living far away, I still feel very much connected to her. I am aware of her. I sense her. The invisible cord to her is still attached. I can feel it. Likewise, Aaron is no longer living here with me. He has moved out (of this earthly life) but yet I still feel him. It feels as if he's just living somewhere else, in a place where I cannot see him everyday, the same as Afton. But the cord that connects me to him is still very much attached. I am aware of him. I sense him. I feel that connection to him. It's both comforting and frustrating. The veil is so close, you know? It's so close. He's right here. I can feel him. Comforting. But I cannot touch him. Frustrating.
I still can't believe a child of mine whom I feel so close to is so far out of my reach.  It's not an easy thing to live with. I don't like it. Sometimes it hurts so badly that I can hardly breathe, and that's the truth. I literally freeze up for a moment and forget how to take another breath, and then I wonder if that's how it feels to have a panic attack? I've never had one, so I don't know. But sometimes I really have a quick sense of panic that my baby is no longer here. The reality of it stabs me quick in the heart and pierces my soul, just like that – BAM! – and wow, that pain…there's really nothing else like it. It passes quickly, thankfully. I'm so thankful not to be stuck in that emotion, and my heart truly goes out to any mama who cannot recover from that feeling. It would be quite debilitating, to feel that way all the time.
Over the past few months I have thought a lot about Aaron's first birthday, wondering how my heart would handle it and if maybe I'd just want to curl up on my bed and stay in my room all day watching FRIENDS and eating chocolate. It's very different celebrating a birthday for someone who is no longer here. How do you celebrate when your heart is missing that person and you aren't "happy" about it at all? Happy Birthday? No. No, it's not. It's not a happy birthday.
But, it is a birthday. It is his special day. Aaron's life had purpose to those who loved him, and especially to his mommy and daddy. His birthday is the first day we held him, the first day we kissed him. It is a special day worth celebrating, and so we did a few things on Aaron's special day. I made a "first birthday" cake with his name on it, we did a balloon release, Rich delivered a Starbuck's gift basket to the nurses of the NICU that cared for Aaron….and last but not least, Rich and I got tattoos with Aaron's name. This was something that we wanted to do ever since the day we lost him, but we wanted to wait a full year to be sure it wasn't just a grief-thing.
So it's been a full year, and I can confidently say that it is not just a grief-thing! Over this past year, I kept looking down at my left forearm whenever I held my phone, whenever I drove my car, whenever I cooked a meal, whenever I did the dishes, and just whenever I was sitting doing nothing at all I would glance down at my arm and I saw my tattoo, clear as day.
So, on Aaron's birthday, I decided to make it so that everyone else could see it, too.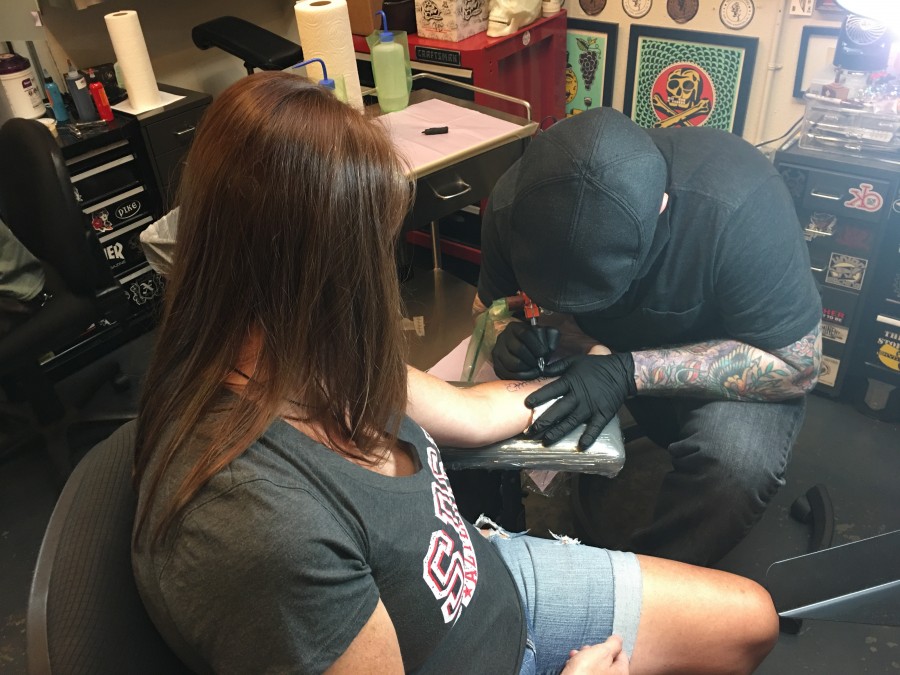 Now, I'm not really a tattoo-type of gal, but I have always had the opinion that if you are going to get a tattoo, something so permanent and right out there for the world to see, then make sure that it's something true to your heart and holds some sort of sentimental meaning to you that will never change.
So for me, it's Aaron's name with his heartbeat (taken from a printout of his NICU monitor)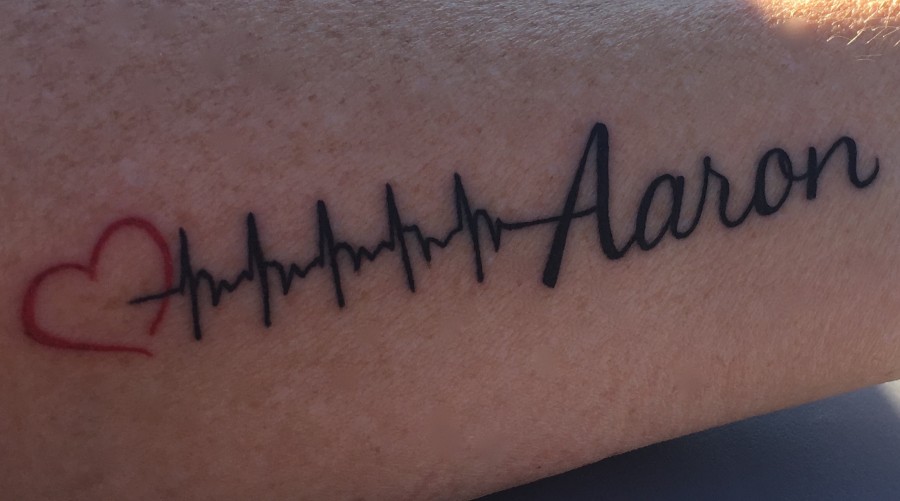 and for Rich, he wanted Aaron's name inside of his (actual size) footprint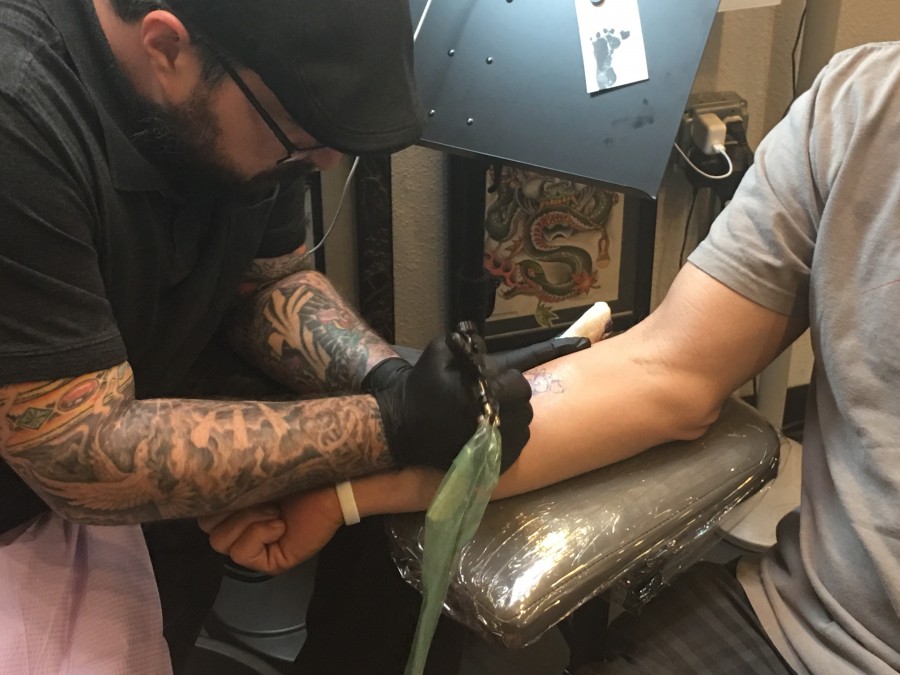 Our Sweet Boy, forever in our hearts…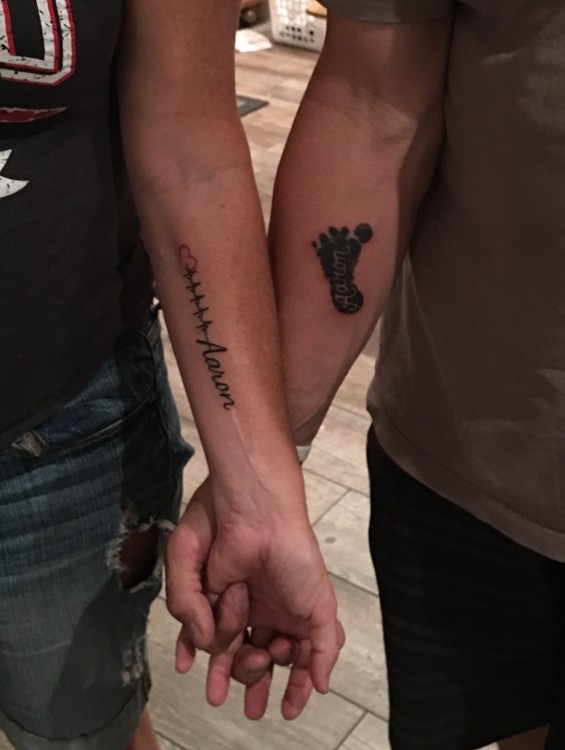 and a lifetime on our arms!
We are both very happy with the way they came out! Mine on my left forearm and Rich's on his right forearm, done purposefully so that when we are holding hands our tattoos will face each other and touch. It's these little things, you know…that makes the loss almost bearable.
Almost.