So I was given this book last week at one of our appointments at the hospital. Look!  It's a National Best Seller!  Yippee!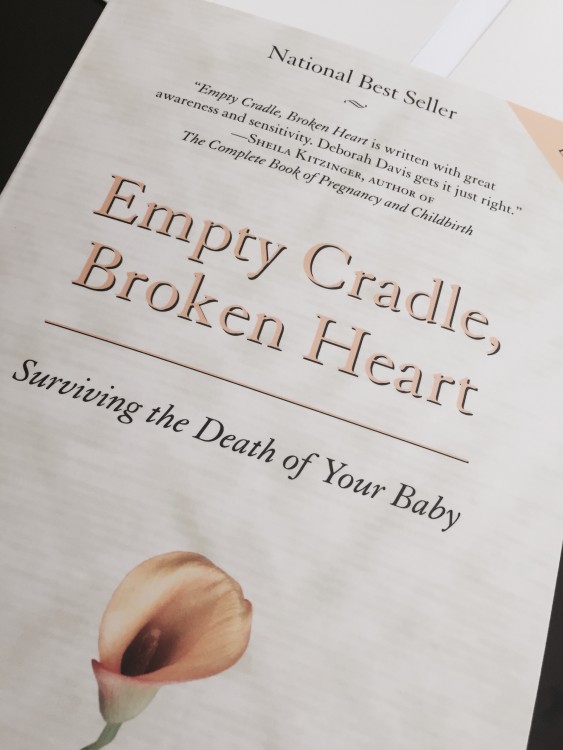 Do you see that title?   Surviving the Death of Your Baby!  
What the what?!!!   
I'm not saying this book isn't deserving to a be a National Best Seller.  I am sure it is a great read and has been helpful to thousands of grieving parents.  But wouldn't you say this book was written for parents of a baby who has, oh…I don't know…already died??!?  Why am I being given this book right now? I'm barely 30 weeks pregnant.
Don't get me wrong.   I'm all for being "prepared" — but to be given a book like this, right now, when I still have a very much alive and kicking baby growing inside of me…
Yeah, I don't think so.  I am not going to read this book right now.  Shoot, I'm not even going to open it.
I don't need this book yet.  It will just make me sad.  I don't need to be sad right now while Aaron is still living.  I have not given up hope for this little baby of mine. For all I know, I might not "need" this book until six months after he's born, or a year after he's born.  Or maybe longer.  I mean, who really knows when this little one will pass away?  I'm meeting more and more families of kids with Trisomy 13 whose children live well beyond what the statistics say.
Why can't Aaron be one of those?
Of course it's possible that he won't be one of those.  He could be like so many others who do pass away hours or a few days after birth.   I am well aware of that.  But if I don't have hope for him, what else is left?  Acceptance of his death? How can I accept something that hasn't happened yet?
Hope deferred makes the heart sick,  but a longing fulfilled is a tree of life.  Proverbs 13:12
I do realize that acceptance is important.  To live in denial is never healthy.  For the record, I am all for acceptance: I accept that my baby has Trisomy 13.  I accept that his life will be shortened because of this.  I accept that he will have many disabilities.  I accept that his care will require a lot of time and dedication from me and my family.  And I accept that along with the joy he will bring, there will also be sadness. But do I accept that he will die soon after birth?
No.
I accept that he might die soon after birth, but not that he will.  There is a difference. Hope is that difference.  I have hope that he will make it out of the hospital and will be able to live with us in our family home.  For a time.  How long of a time?  Two months? Six months? A year? I have no idea. But I can't read a book about the death of my baby…when he hasn't died yet. That's almost like reading How to Survive Your Divorce on your honeymoon.  How many of you would read a book like that on your honeymoon?  After all, the current statistics that a first marriage will survive 10 years is only 0.66% (1 in 15 marriages).  So knowing those statistics, would you put that book down on your wedding gift registry?  You know, just so you could prepare yourself?
Okay, so I know that example is not exactly the same as with a baby who has been diagnosed with a life-limiting condition.  But still.  Hear me out on this.
The way I see it, Aaron has survived this long when so many of these babies pass away in utero. He has a healthy, strong, perfectly formed heart. He is a little fighter!  Doesn't he deserve a mama who will fight along with him, in spirit? Or should he have a mama who has already given up hope and is planning for his death before he even comes out of the womb?
I'm thinking he needs me to fight for him, to not give up hope. He needs for me to have hope and faith, and to surround myself with people who believe as I do. Anyone who does not have hope for my baby and who thinks it would be better if he died rather than live with Trisomy 13 should not be around me or my family at this time.  The negativity would be felt, and it would be very hurtful. It would bring me down. And I can't be down right now, or when Aaron is born.  My little boy needs for my hopes to be high.  He needs me to fight for him.   And he needs me to not read a book that's all about the death of your baby…while he is still very much alive and has a chance at life outside the womb.
Sorry, I'm just not going to do it.  I can't see how this book will help me in any way right now.   It just feels so… wrong.  It really goes against my mommy instinct, and that instinct has never lead me astray in all my 22+ years of being a mommy. Right now that instinct says to have faith, to have hope. That  is  where I want my energy to be put right now: in hope and in faith.  Not in death.
So I will put this book in the back of my closet.  For now.  And I pray it will stay back there long enough to gather some dust.
And we rejoice in the hope of the glory of God. 
Not only so, but we also rejoice in our sufferings, 
because we know that suffering produces perseverance; 
perseverance, character; and character, hope. 
And hope does not disappoint us,
because God has poured out his love into our hearts
by the Holy Spirit, whom he has given us.  
*
*