The words "carrying to term" refers to staying pregnant the full nine months or until a baby is ready to be born, but the phrase has also come to mean the choice to continue with a pregnancy despite a terminal fetal diagnosis.
Context example:   She decided to carry the child to term, even though the fetus was shown to be defective.
I remember a few years ago I began following a family on Facebook who was sharing their journey of carrying their unborn son to term despite his diagnosis of anencephaly (a serious birth defect in which a baby is missing parts of the brain and skull)   Some would question why they would make that choice?  If the baby was going to die anyway,  termination of the pregnancy would be a much better decision for the baby and the parents, wouldn't it?
Well, that is not necessarily true.  *Not for everyone, it isn't.  In fact, I've since found story after story of parents who have chosen to carry their babies to term despite a fatal diagnosis, and so far I have read none that regretted their choice.   They were all grateful for the short time they had to hold their baby, to get to know their baby, before having to say goodbye.  I have always been intrigued by these parents and the choice they made.  Surely it can't be easy carrying a child through pregnancy when you know that the baby isn't going to live long after the birth.  But yet I knew without a doubt that if I were ever faced with such a pregnancy, I would do the exact same thing.  In fact, here is a blog post that I wrote a couple of years ago that says exactly that.
Looking back at that post, I can't help but to think that perhaps I knew, on some level, that I would one day be faced with that same choice.  Did I have a feeling or a premonition?  I can't say that I did.   Actually, I think it's much more likely that the Lord pressed upon my heart a curiosity about such stories to prepare me, to grow my heart in such a way that if it did happen to me I would be able to make the best choice for me. The Lord knows me so well, and he knows that choosing to terminate would destroy me inside, that I could never truly heal from that decision, and so He made it that I would be introduced to these families as a way to guide me towards making the decision to carry to term, should it ever be a decision I am faced with.   This is what I believe to be true.
On June 19, 2015, at 16 weeks into my 10th pregnancy, we learned that our unborn baby has a fatal condition.  We learned that our precious son, who we have named Aaron, has Trisomy 13.  Due to the presence of several life-threatening medical problems, most infants with trisomy 13 die either in utero or within their first days or weeks of life.
We, of course, are heartbroken.  But we know that Aaron's life has value.   However short his life may be, his life has a purpose.  We cannot cut his life short just because he may or may not live longer than 2.5 days.   I am carrying him to term because this is his only life, and he should be allowed to live it out for as long as he is able to.  Right now I feel his kicks and his hiccups.  He is very much alive and safe inside of me.  I feel privileged to have been chosen as his mother and it's truly an honor to carry him.   I cannot know the future, and I have no idea how this little baby will come to bless our family.  But I know that he will.  He already has.
I am so grateful to those who have guided me towards this decision; of course to my Father in Heaven who has guided me the most, and to all the mamas whose stories have made a huge impact on my heart, and their babies who I will never forget.
Angie Smith and her daughter Audrey
Brittni and her son Ezekiel Anthony
I know I will never regret carrying Aaron to term.   I know that when his time comes to leave us, I will hurt and I will have a hole in my heart that will never be filled.   It will not be easy, that is for sure.  But I will live out my days knowing that I honored his life and cared for him the best way that I knew how, and I will know that during his life he will have known nothing but love.
I'm choosing to share our journey with Aaron here on my blog for a few reasons.  First and foremost, he is my baby and I am proud to show him off!  What mother doesn't want to introduce her child to the world?    During my pregnancy our family will get to know him, and so will everyone else as I share him through my blog posts.  Second, just as others have shared their stories and they had an impact on me, I hope that one day our story can do the same for someone else who might be facing a similar diagnosis with their expected baby.  And last, I want Aaron to have made a mark in this world, to be remembered.  No matter how short a person's life may be, it's never too short to make an impact.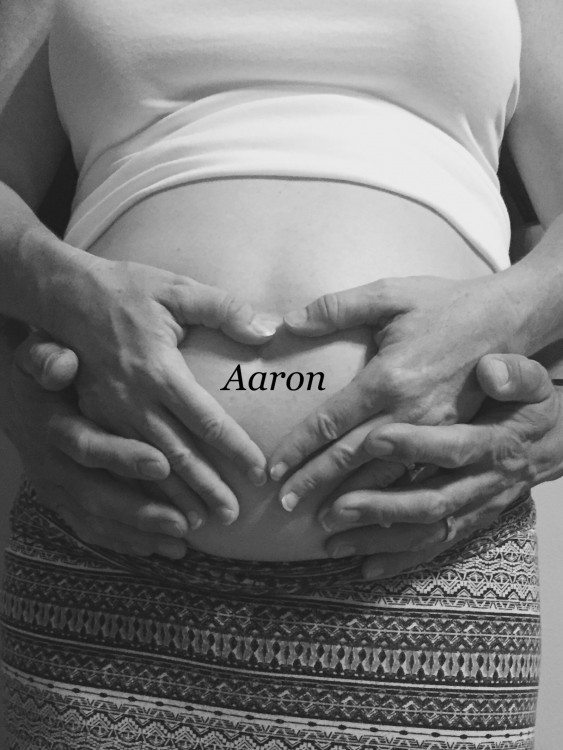 Should he make it to term, Aaron's expected due date is December 1, 2015.  To read updates on my pregnancy with Aaron, click here or go to "Baby Aaron" in the drop down menu of my navigation bar (under INSPIRATION).
*I do realize that the choice to carry to term may not be a choice that everyone can make.    I do not judge other's choices, but rather would just like to offer hope and insight to those who do choose this path.
update: Aaron was born on November 4, 2015 at 36 weeks via c-section. He weighed 7 pounds 1 ounce and was born alive but not able to breathe on his own. He was placed on a ventilator and we had 5 days with our son before he went to Heaven. We all held him and loved on him. He was perfect and beautiful and I have zero regrets about carrying him to term.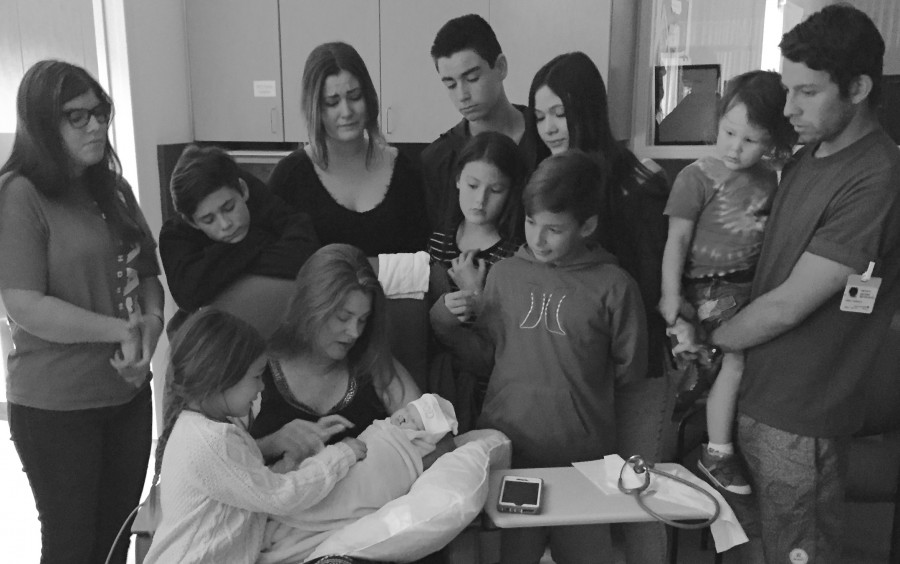 November 9, 2015 ~ my only photo of me with all eleven of my children