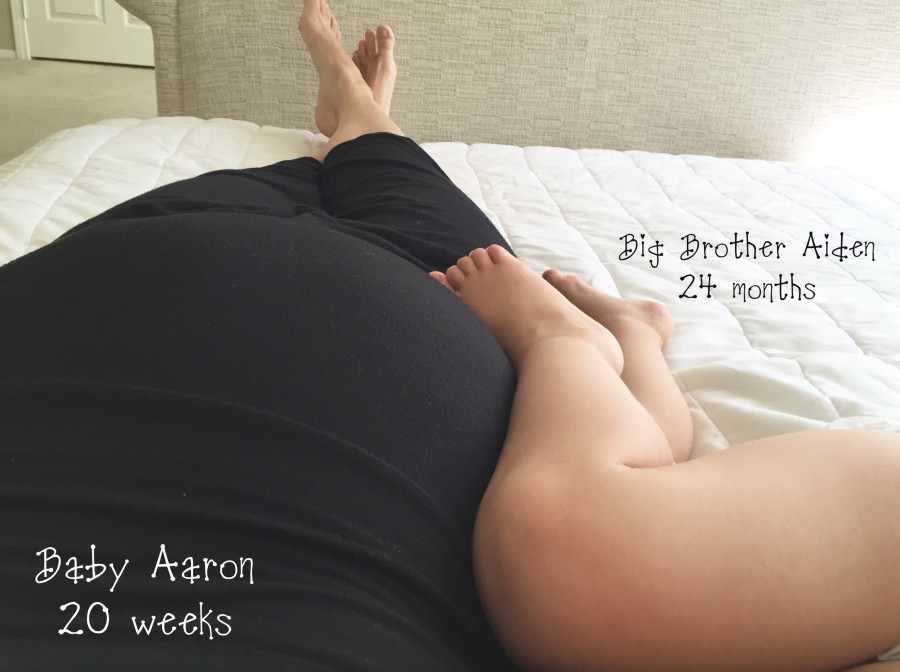 A couple of weeks ago I was lying on my bed trying to catch a few minutes alone.  About three minutes later I could hear Aiden down the hall saying, "Mom-mom! Where are you?"  and I knew that was it for my quiet time.  That boy rarely lets me out of his sight.
He opened my bedroom door, smiled as he "found me" and quickly flopped down on the bed. He curled himself  into me and after a few minutes fell asleep. It was the middle of the day, nap time. His little body was pressed into mine, his legs perfectly contoured to my swelling belly.  Two year olds are just so sweet.
I looked down at my baby bump and realized that there is just a little bit of skin and cloth separating my two boys right now, that they are about as close as they can get to each other in this position.  Look at that, I thought to myself,  my boys are napping together.   I wondered what position Aaron was lying in. Was he facing Aiden, trying to inch in close to him?  Could he sense that his big brother was lying there? Did he hear me talking to Aiden before he fell asleep?
A thought came to me that it's not likely Aaron will ever get the chance to take a nap with his big brother outside of the womb.  Maybe naps like these over the next few months are all that these two brothers will ever have together.
I spent the next hour staring down at my two baby boys napping together, and I felt joy mixed with a bit of sorrow.  This is a combination of two emotions that I am growing used to.   I am so glad I had my iPhone next to me so that I could take this picture.  This will always be one of my favorite pictures.
Click on the links to read more about Baby Aaron and our choice to Carry to Term