Today Baby Aaron and I celebrate reaching 28 weeks together.  Twenty-eight weeks!!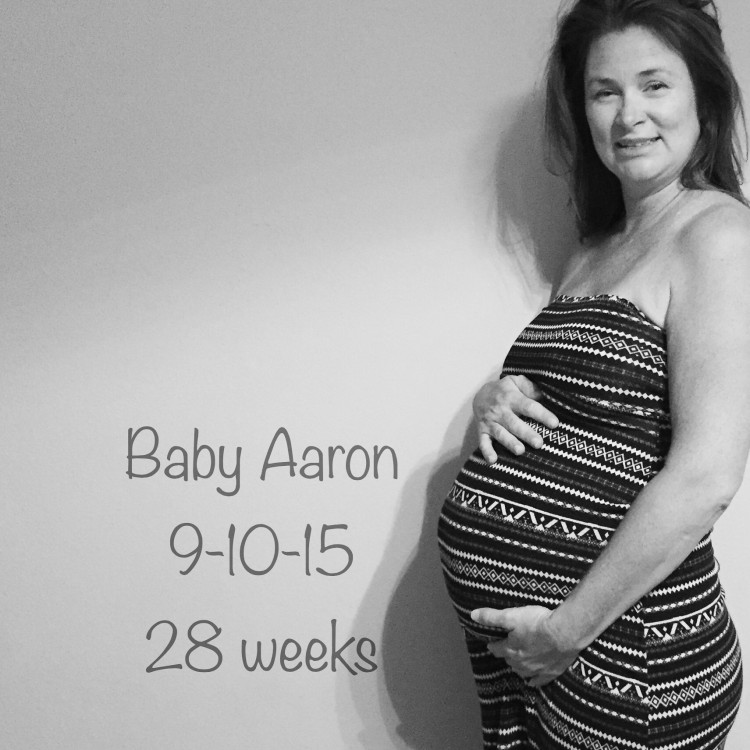 Since many Trisomy 13 babies die in utero in the early weeks of pregnancy, each week that I get with my little guy is a small miracle for me, and I celebrate each one!  And I know Aaron does, too, because I feel the joy coming from inside my belly.  I do, I really do! He kicks me, and he starts to move whenever the kids talk into my belly, and I just know he is loving life in there, safe inside his mama.  He is growing and getting stronger.  He is living his best life.
As my due date draws nearer (December 1st) I find myself worrying about a crazy thing, something that I've never had to worry about before.  What if this baby is born strong enough that he gets to come home?  That's a crazy worry to have, right?  That your baby might come home? I know this isn't something a mother should "worry" about — in fact, she should expect for her baby to come home from the hospital.   But for me, although I want more time with Aaron and love the idea of him coming home, the possible reality of that has me concerned. Actually, "concerned" is putting it lightly. The thought stresses me out just a bit.
What IF he doesn't pass away within 2.5 days after birth, as the statistics say? If by some miracle Aaron is strong enough to come home to live with us for a time, he will need more care than the typical newborn – way more care.  He will need to be watched 24/7 in case he stops breathing due to apnea spells, which is a very common  occurrence in T13 babies. I will need to learn infant CPR, and at some point I will probably have to revive my own baby.  I think that thought alone would scare just about any mother.  He will not be able to breastfeed due to his bilateral cleft lip and palate, so his feedings will be difficult, done either with a special bottle (if he has a sucking reflex, which most T13 babies don't) or more likely through a feeding tube. There is so much involved in caring for T13 babies. How am I going to handle all his special needs plus still do all that I need to do for all my other kids on a daily basis? It seems impossible.
And so all the worrying got me thinking.  Why am I worrying about this? And here's the answer: It's because I have time to worry.  I have known about Aaron's condition since he was 16 weeks gestation. I have had plenty of time to research all of the what-if's and statistics and future care that he will need IF he should come home from the hospital.  And when you have time, your mind can imagine all sorts of things.  You have the time to doubt yourself and your ability to handle the situation. I have been warned months in advance that a high needs, medically fragile baby is on the way.  And although I love him so much, it is frightening to think that he might actually come home and that his daily care will be on me. All on me.
So then I have to wonder, is knowing beforehand such a good thing?
With my oldest daughter's brain injury I was not warned.  One second she was a normal four year old, and then the next second a car hit into us and changed her forever.  And that was IT.  There was not any kind of warning telling me I would soon have a brain injured child who would need years of therapy to learn to walk and talk all over again.  I wasn't told a few months in advanced that this would happen to her and that my heart would break into a million pieces because of it.  I had no time to prepare, no time to think about it.   No time to worry or doubt my ability to care for her.  I just DID IT.  And it was hard.  It was to date the hardest thing I have ever gone through. But, I did it.  And I am quite sure that if a few months before the accident someone had told me what was going to happen,  I probably would have thought no way, there's no way my heart can handle that kind of pain, and there's no way I could care for a high needs child like that.  No way. Don't sign me up for that!   I'm pretty sure I would have freaked out at the thought of it. But I didn't get a warning because there is no way to know an accident is going to happen.
Because of all the advanced testing available in early pregnancy these days, it IS possible to be warned that you are carrying a baby that is going to need extra care, who might not live a long life, who if he does survive past birth will be disabled and require a ton of extra care. You do get plenty of warning, plenty of time to think about it and to doubt yourself and your ability to cope with it all. Plenty of time to worry about all sorts of things.
So sometimes I think not knowing could be a good thing.  I have been in contact with a few moms of T13 babies who did not know their baby had T13 until after the baby was born. They are all grateful that they didn't know. They say that they enjoyed their pregnancy without worries, and then the baby was born and they went day by day, made medical decisions when necessary, and they just kicked into action and learned how to be a mother of a special needs baby. There was never really any time to doubt themselves.  They just did it because they had to, just like I did with Audriana after her injury.
But knowing beforehand has it's advantages, too. I think the biggest advantage is all the support you can tap into before the baby is born. I have met so many parents of T13 babies, some whose babies passed away in the first few hours or days after birth, and some whose T13 children lived longer or are still living.  It helps so much to connect with these parents.  It's great to find people who know what emotions you are going through and what you will soon be going through once your baby is born. They build me up.  They tell me I can do it, that I will be strong enough, that I will figure it out and get used to my new normal, and most importantly that I will be just the kind of mother my son needs, for however long he needs me. They tell me I will be blessed by the experienced in a way that can't be explained. I trust these moms and their personal experiences more than I trust any doctor or statistic that I read.
So knowing can be a good thing, and not knowing can be a good thing. I still can't figure out which way is "best" — maybe for each person it's different. Like, maybe for me it's best that I know beforehand so I can write in this blog and share my experiences for others to read.  Maybe it's best for me to know so that I can better prepare my kids for their baby brother's arrival. Maybe it's best for me to know because I was already blindsided once by one of my children being hurt. Maybe this time I'm just meant to be warned.
Here is a picture of Aiden feeling Aaron's kicks.  I love this captured moment.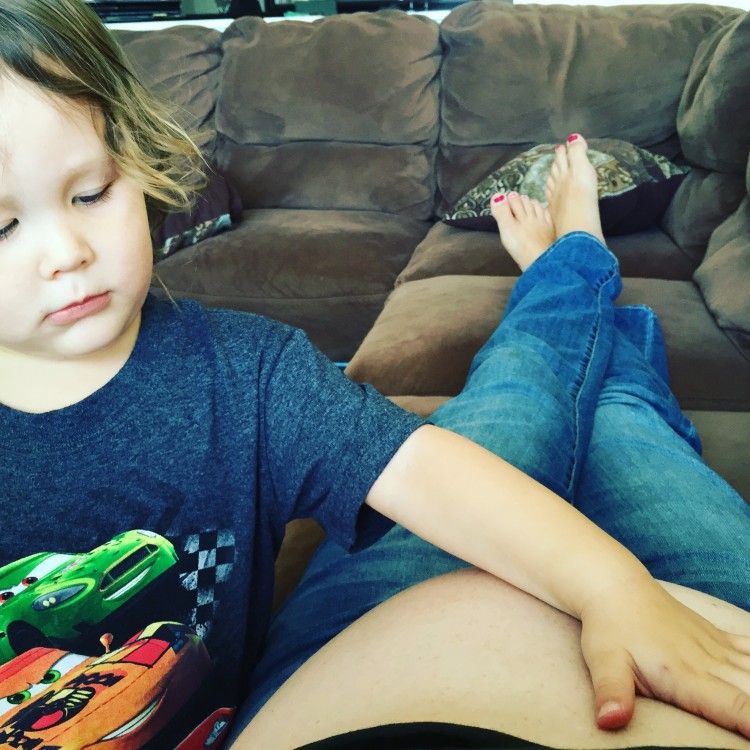 We really do cherish every second of our baby boy.  That is another perk to knowing the diagnosis beforehand.  We don't let any day go by without truly appreciating that he is here with us right now.  The "right now" is never overlooked or rushed, because we know that the  "right now" might be all we get.
New here? Click on these links to read more about Baby Aaron and our choice to Carry to Term