Last week I bought an annual pass to Disneyland.  Just for me.  It's the first time I have ever just bought ONE pass.  Years ago, back when the annual passes were below $100, we used to buy a pass for each member of our family.  And we would go to Disneyland all the time. It was awesome. But we haven't had those passes in a few years, so Aiden is the only member of our family who has never been to Disneyland.  And since he and I are alone all day together while the other kids are in school, I thought it would be fun to take him to Disneyland a couple of times each week.
The first ride we went on was the famous It's a Small World. I thought that would be a good way to start the day off.  We waited in line no more than 8 minutes and then it was our turn to board the boat.
First thing Aiden did when we got on the boat was grab on to the front railing. He stayed like this for most of the ride, just staring at all the things to see inside the ride.
Next, we rode the Dumbo Ride.  One thing I dislike about the Dumbo ride is the line.  There is always such a long line!  Lucky for me, Aiden is a very patient little boy and he actually did wonderfully well in all the lines we had to wait in.
At first he didn't know what to think of it, but once the ride started and we went up, up, up to the top and he could see all around, and the wind was blowing in his face….well, the kid never stopped smiling. He absolutely loved the Dumbo ride.
After Dumbo, we went on the carousel.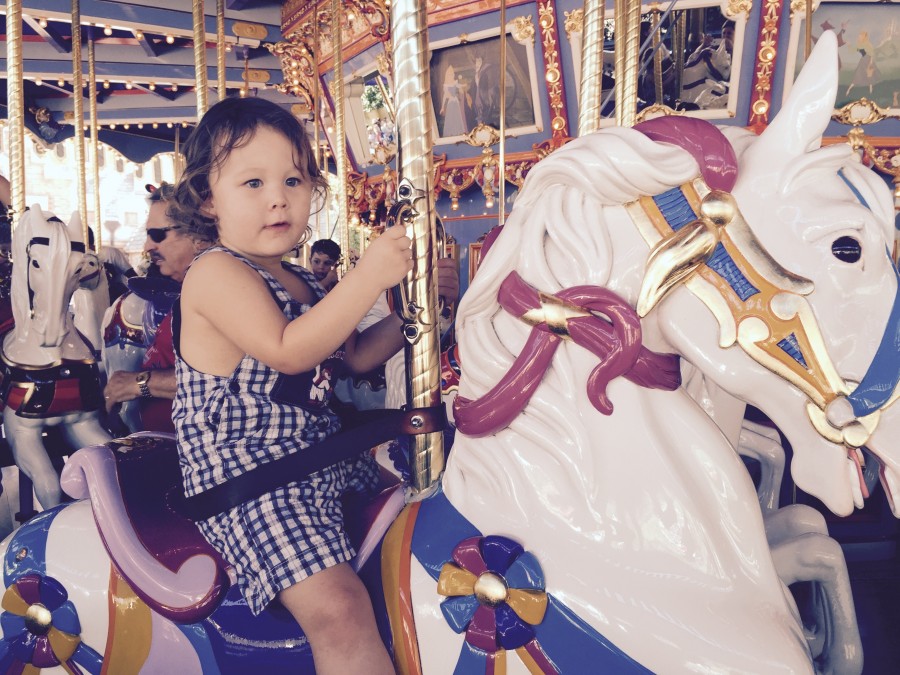 At first he didn't know what to think about this ride, either.  He kept saying, "I go on Dumbo. I want Dumbo."   The Dumbo ride was a hard act to follow, let me tell you.  He wasn't too excited to be sitting on top of some fake horse when he had the Dumbo ride fresh in his memory. But once the carousel started, he began to like it.
I got on the horse next to him.  I kept trying to get a good picture of me and my belly riding the carousel, but it was really hard to do a selfie.  This is the best shot I could get of Baby Aaron's first ride on a carousel.
We went on a few other rides that day, mainly in Fantasy Land. It's hard for me to walk around for very long, so I keep the visits to three hours, maybe four. I need to get back in time to pick the kids up from school, anyway, so a longer stay can't really happen. But that's okay. The morning hours are great. Then Aiden is all tired out for a good afternoon nap.
I am planning on taking him twice a week until I have the baby. So far we have gone three times, and tomorrow will be the fourth visit. Each time we go, we tackle a new area of the park. Yesterday we went into Disney Adventure and he loved Cars Land. Here he is with his most favorite Disney character, "Mater" from Cars.
It's really different being at Disneyland by myself with just one child. I have never gone without Rich before, and we usually have many kids with us. I have to admit, though, it was really fun with just one!  Aiden is at such a cute age right now, and that makes it even more special.  He's just so happy to be there.  Everything is so exciting to him, and I love that.  I just have to stay away from all the stores. I learned that lesson the other day.  He saw a toy he wanted and had a meltdown when we left the store without it. I have NO idea why I went into that store in the first place.   Such a novice mistake!