Although Aiden has been potty trained for about a year now, it wasn't until last night that I finally cleared out all of his cloth diapers from his drawers. That's right, it took me this long to finally accept that my diaper-changing years are over. <insert heavy sigh here>
As I sorted through all the cute diapers I had in my collection, my 15 year old daughter came into the room and said, "Save them for my babies! I'll use them!" So into a storage bin they went! This makes me happy because the thought of getting rid of them was giving me a sort of anxiety. Truth.
When Aiden was three months old, I decided to start using cloth diapers. Having only used disposable diapers on my previous nine babies,  I had no idea what I was in for with cloth. I was afraid that once the novelty wore off, and once Aiden's poops were no longer infant poops but "big baby" poops, that I'd go back to using disposables. But to my surprise, the novelty never wore off, the big baby poops did not bother me, and I continued to use cloth diapers on Aiden until he potty trained at 2.5 years of age. Success! So for those of you who might be thinking about switching over to cloth diapers,  here is a short pros and cons list for you to consider before your start your cloth journey.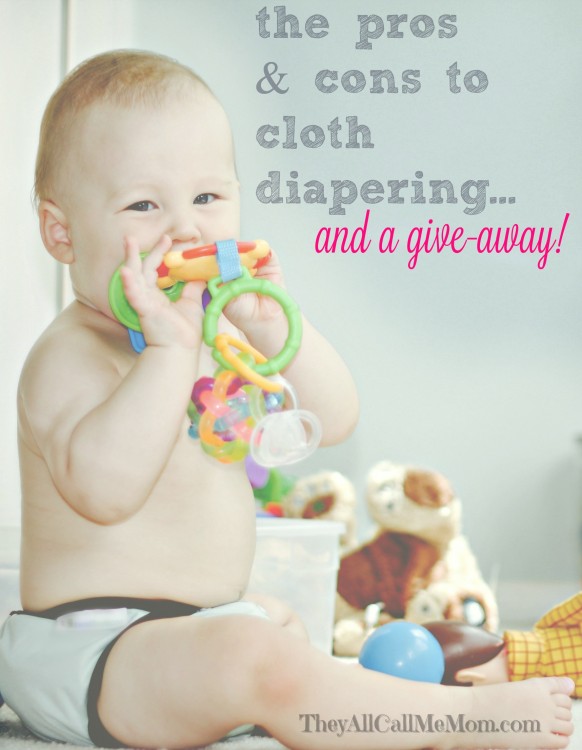 This giveaway is a partnership with Nakturnal, with a prize of a gift certificate.
pro – MONEY. You can save a lot of money by using cloth diapers. I found that the cost of using cloth diapers for 2.5 years is far less than the cost of buying disposable diapers for 2.5 years. Plus, if you have more babies later on then you are really going to save money by using cloth diapers because you can use your diapers on all the future siblings. I really regret that we didn't start cloth diapering until we had our 10th baby. The money we spent on disposables over the past 20+ years could have probably sent each kid to college. Okay, maybe that's a slight exaggeration, but my point is this: there's something to be said about being able to reuse cloth diapers for each baby that comes along. It's a major money-saver.
con  – TOO CUTE. Cloth diapers are too cute. Yes, that can be a bad thing. The many variety of styles and prints of the cloth diapers these days could tempt you to buy too many. You might find that your collection (aka your "stash") grows and grows over the months simply because you cannot resist getting the latest diaper or diaper cover. They always come out with seasonal prints, holiday prints, new colors and styles, and if you aren't careful you'll soon have your own little cloth diaper store. And then when you hold up a new diaper to your husband and say, "Isn't this this cutest!!"  he will not smile but will frown at you and say, "Don't you think we have enough diapers? I mean, how many do we need? You told me this would save us money." And then the next thing you know you'll be timing the deliveries so that they come while your husband is at work, and you don't want that, right? You don't want to be sneaky. So the con is that they are so cute they can be addicting!  And like any addiction, it can cost you money… and quite possibly your marriage. So, there's that.
pro – ENVIRONMENTALLY FRIENDLY. Disposable diapers end up in our landfills, thousands and thousands of them each day if you consider the entire country's use of disposables. Cloth diapers are definitely better for our environment. Be the change you wish to see in the world. Let's not forget the wisdom of Ghandi. He knew what he was talking about. I bet Ghandi wore cloth diapers when he was a baby. Be the change!
con – MORE WORK. By not throwing away the diaper, of course that means that you must wash the diaper, and that can be a major deterrent for many parents out there. More work, right? Who needs or wants more work? That was a deterrent for me, too. But once I jumped into cloth diapering, I realized it's not that big of a deal. I was already doing laundry once a day, anyways, so what's one more load? With one baby in cloth diapers and a stash of about 30-35 diapers, I found that I was doing a load of diapers every third day. They can all be washed in one load. It's really not that much work at all. But yes, they are more work than disposables.
con – IT'S GROSS. Okay, well I can't really argue with this one. I guess for some people cloth diapering can seem a bit gross. There's definitely more handling of a soiled diaper going on compared to that of a disposable. I personally don't think it's gross because poop doesn't bother me, but some parents would rather not deal with poop and would prefer to throw it into the trash instead of cleaning if off a cloth diaper, and I can understand that. However, for the poop-sensitive parents there are flushable, biodegradable liners that you can put into the cloth diaper. That way, when you change a poop diaper, you just lift the liner out and plop it into the toilet. Flush!  Easy-peasy.
pro – YOU CAN RESELL THEM. If you are at the end of your cloth diapering journey and will not be passing them down to your grandchildren (seriously, who does that besides overly-sensitive moms like me?) then you can always resell them.  You can sometimes get up to half of what you paid for them if you've kept them in good condition. This option, by the way, also really comes in handy if you find you need to get rid of half your stash in a hurry in order to save your marriage. Look, honey! See? I can resell them! And I'll start going to Cloth Diapers Anonymous, I promise!
pro – ADORABLE. Your baby will look especially cute in cloth diapers, and I'm not even kidding. They are really cute. Sometimes, if the whether is warm, you can let the baby run around in just a t-shirt and a diaper and you feel okay about it because the diaper cover is so cute, you want people to see it! So hey, it saves on doing laundry that way, if you think about it, because if your baby isn't wearing pants but just a cloth diaper with a cute over, then that's less clothes to wash, right? Okay, I might be reaching with that one. But still. They are cute!
So where can you buy cloth diapers? They are found in select retail stores and also online. At Diapers.com they sell all of my favorite brands of cloth diapers. They have a huge collection! Not only that, but they sell children's clothing & shoes, toys, safety items, and just about everything else you need for a baby or small child. And right here on my blog you can win a $50 gift certificate to spend on anything you want at Diapers.com! How cool is that?
This giveaway is open to every person who reads this blog and who follows the entry directions! If you are in the United States, great! If not, that's okay, too! Just know that customs are not covered by the prize.
Enter by leaving a comment about cloth diapers. You may leave one comment per day (on this post) until the contest ends at 5pm PST on Monday, January 23, 2017.  You can also get a bonus entry by liking my Facebook page. You can get another bonus entry by following my Instagram page (just be sure to leave a separate comment for each, telling me that you did it) Winner will be chosen by Randomizer.org. Prize will be delivered via email in the form of a digital gift certificate to Diapers.com.
Good luck!