This update has been long overdue.  You all remember my talk of the pool construction?  Well, the pool has been finished for a few months now and I'm finally getting around to posted about it.  We still are not quite done with our yard, but the pool itself is done.  We still need to install sprinklers and get all our plants, trees, and flowers in and the lighting around the pool.   But the pool is being used every single day.  And when I say every single day,  I mean EVERY SINGLE DAY.
I love having a pool right in our own backyard!  Gone are the days of packing everything up, getting in the car and driving to the community pool.  Now, we just go right outside and swim in our own pool.  I don't know how we have survived this long without one.  Seriously.  It's been great.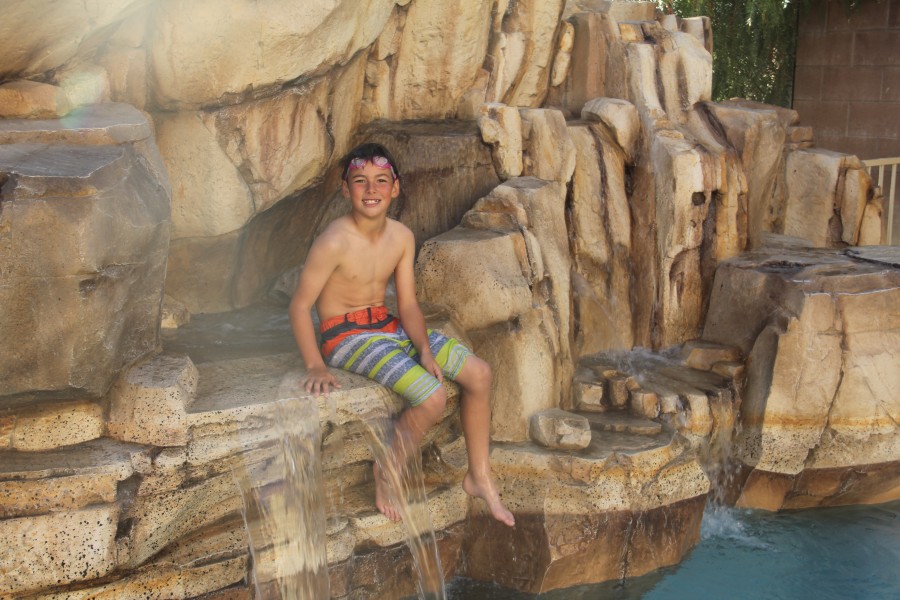 The rock slide and rock waterfall came out better than I could have imagined.  I love that my kids can climb on the rock and jump into the pool from all the different ledges.  And the slide is super fun for them.    I've gone down the slide a few times myself.  Fun!
We chose a plaster pool floor  because my kids didn't want the pebble bottom scraping their feet up.  I had them mix white plaster with light grey plaster because I wanted to be able to see the pool bottom at all times.  I love the color of deep blue pools, but I had to make a safety choice with this decision.  It's much easier to see the bottom of the pool (and who you might be jumping on) with a lighter color.  Because I have so many kids swimming in the pool at one time, this was a top concern of mine.  I've been to some gorgeous darker bottom pools where you can not see who is swimming below you.  That can be dangerous when you have a slide and a rock formation that kids are always jumping off of.
The jacuzzi in our original pool plan was smaller than this one.  At the last minute I had them redraw the plans so that the jacuzzi could be bigger.   I'm so glad I did.  Because, you know, gotta make room for all the neighborhood kids.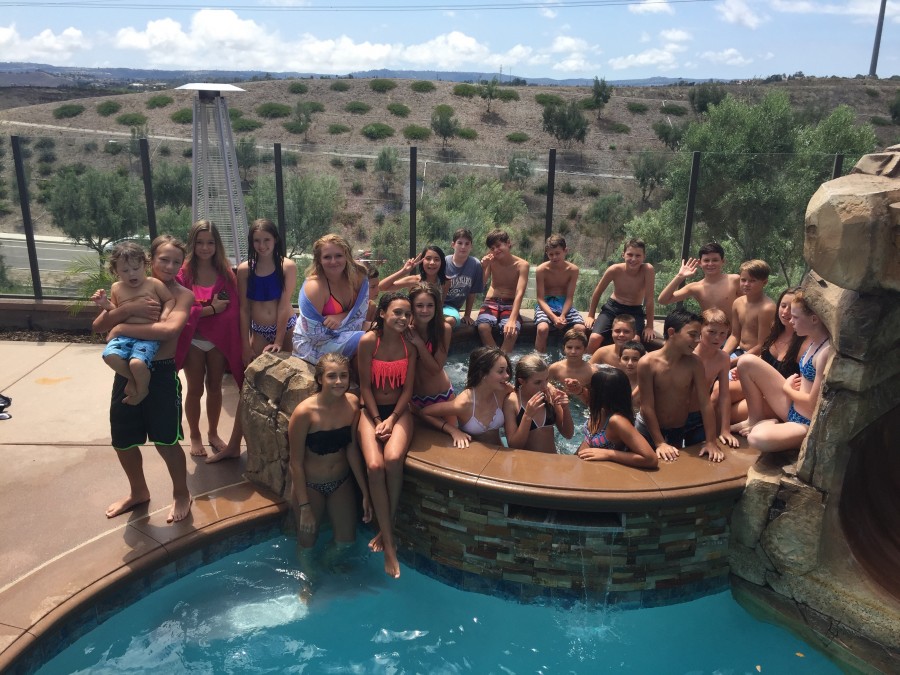 The built-in BBQ is where you will always find my husband.  It's his man cave.  He has always wanted a man cave.
The kids jump off this rock all the time, even from the very top.  I planned ahead and made sure the pool is deep near the rock!!
And little Aiden enjoys his Baja shelf!  This is where he spends all his pool time.  I love, love, love our Baja shelf.  Not only is it perfect for my little guy, but everyone else seems to land here from time to time just to kick back.
Here's a complete view of the pool, the best that I can get it all in.  Different angles shows different things, and from this angle you can't see the opening of the slide, but it's right there by the jacuzzi.  The fire pit is off the the left.  We use that a lot, too.  Love our fire pit!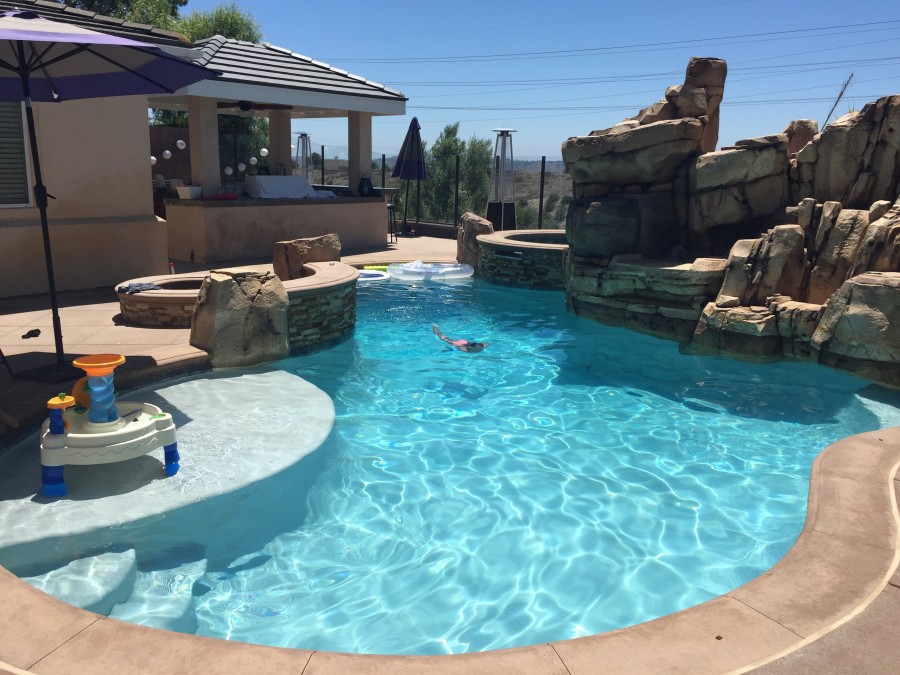 So there you have it.  Finally.  Our backyard pool.  I'll keep updating as we get our trees and plants and all that.  We still need patio furniture!
One step at a time….