Since Audriana's 18th birthday, I have been going back in time a bit, thinking about her 18 years.  I really can't believe she's 18 years old already.  I'm still trying to wrap my brain around this fact.I'm in the process of putting all of my old film photos onto disc.  Some of these photos I have not seen in many years because they were put away in a box and shoved to the back of my closet.  Seeing her in older photos makes me both happy and sad.  Mostly, though…they make me extremely grateful.  We almost lost her in that car accident, and that is something that I am aware of everyday, but  somehow seeing photos of that time brings it all back more clearly.I've had a few requests from readers to finish "our story" so that they can  learn how Audriana did with her recovery.  Well, to do that the way I want to will take time, so in this post I just highlighted some of the years with photos.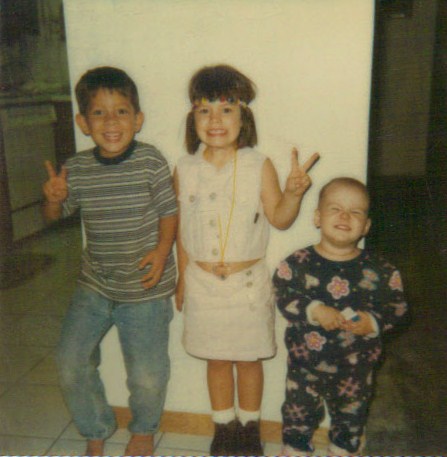 This was taken when Audriana was three and a half.  Tony was five, and little baldy there (Afton) was just about 16 months old.  Tony and Audriana were always the same height back then and people always asked me if they were twins.   This is a Polaroid shot, which is why it's such a poor quality, but yet…this is one of my favorite photos.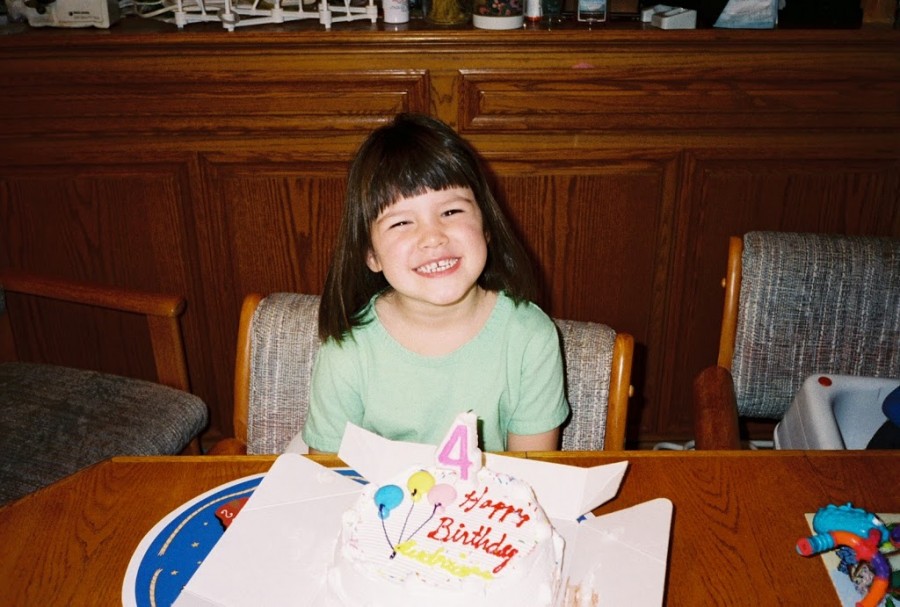 January 31, 1997.  Oh, how I love this picture!  Her 4th birthday.  This was just 18 days before our car accident, and when I see Audriana in this photo I automatically think to myself, that is my old Audriana.  It's sounds weird to say, but my brain feels that there are two Audrianas:  the one before the accident….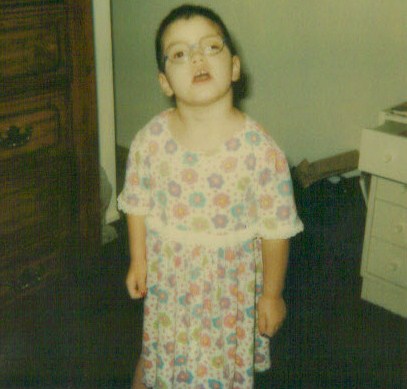 And the one after.
May 1997
This is her just about 4 months after that last photo was taken.  See how different she looks?  Her facial expressions changed completely.  Her eyes changed, her smile changed, her voice changed, her personality changed.  I would look at her back then and wonder, where is my daughter?  She was still  my daughter, of course.  I knew that.  But oh, how I missed the old her!  In this photo, she still looks so awkward and hurt, yet this was 4 months after the accident!  She looked good in this picture, compared to the days and weeks right after the accident.  I don't have many photos of her during her 3 month hospital stay.  I wish I had taken more pictures while she was there, but at the time I was just too sad and distraught to take pictures.
I do have this one, though.  She was already at the rehabilitation hospital at this time, not in the PICU.  I don't have any of her in the PICU (pediatric intensive care unit)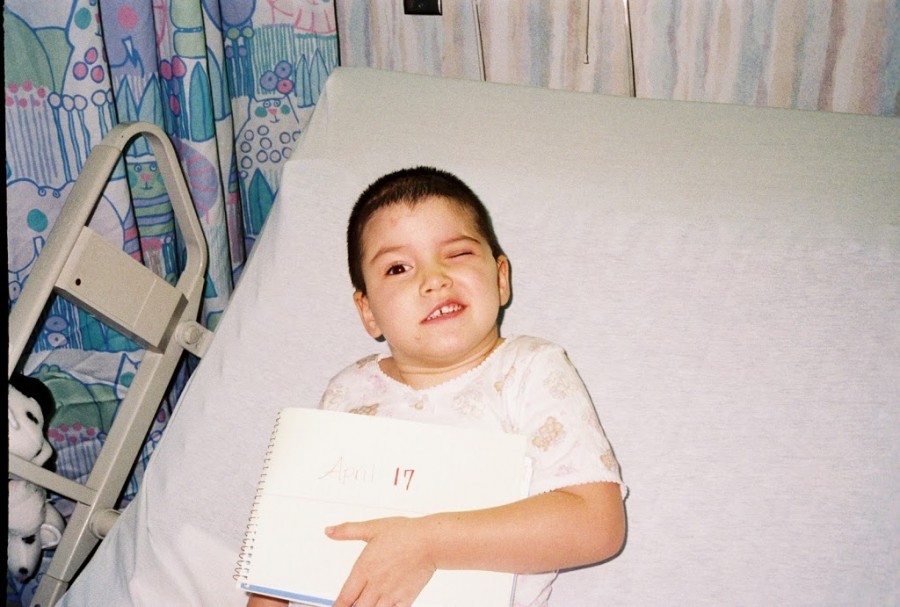 The accident happened on February 17th.  In this photo,  I had her hold this notebook up and wrote the date:  April 17th to help document her recovery.  Two months after her accident. At this stage in time, she was unable to open up her left eye, her face was still paralyzed on the right side (notice her droopy smile on the right side of her mouth)  and she wasn't able to talk, walk, or use her right hand.  But she could smile, and she could follow simple commands, and she could stand when assisted.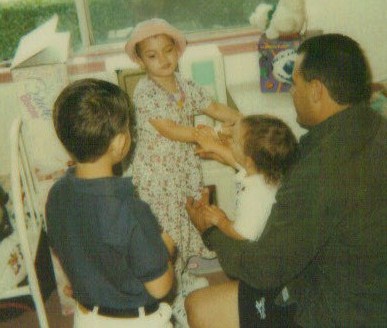 April 1997 — one month before her hospital discharge.  We were able to take her home for a day's visit on Easter.  My grandmother made this dress for her, and the hat, too…to help hide her shaved head (although she could not talk at this time, she would look in the mirror and frown at her bald head, so hats made her feel pretty!)  At this time, she could not yet walk, and wherever we went we had to hold on to her hands to help her take her steps.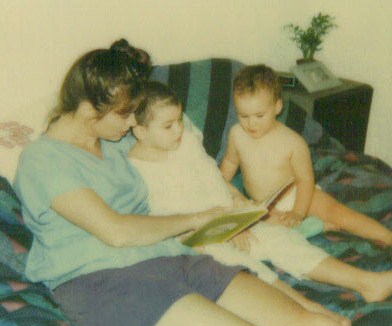 It was so good to have Audriana "home" again, even if it was just for those few hours.  We tried to make the most of our day by doing our old "normal" things.  Reading in our big bed was one of those things.  It was so nice to be away from her small twin bed in the hospital.   We were told to do things that were familiar to her, to help her memory come back…so in this photo I was reading the book "Harry the Dirty Dog" which had been her favorite book before the accident.  You can see the scar on her head in this photo.  It goes from one ear all the way up and around the top of her head and connects to her other ear.  That scar was from her second surgery, the facial reconstruction done on her left facial bones, particularly the left eye socket.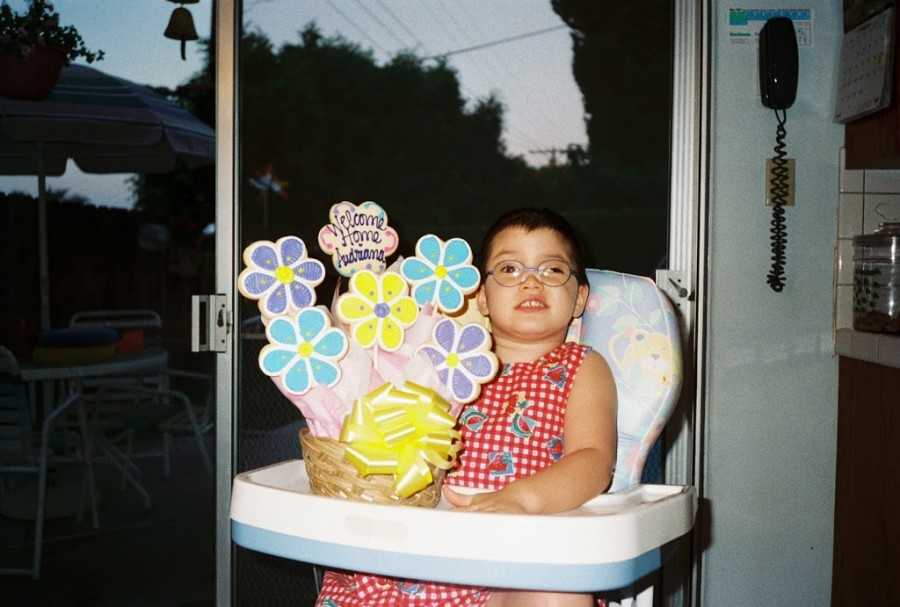 June 1997 — A happy day!  Home from the hospital.  At four years old, she was back in a high chair to eat her meals, but that didn't matter much.  The important thing at that time was that she was back home, with her family, where she belonged.  Yes, this was a happy day!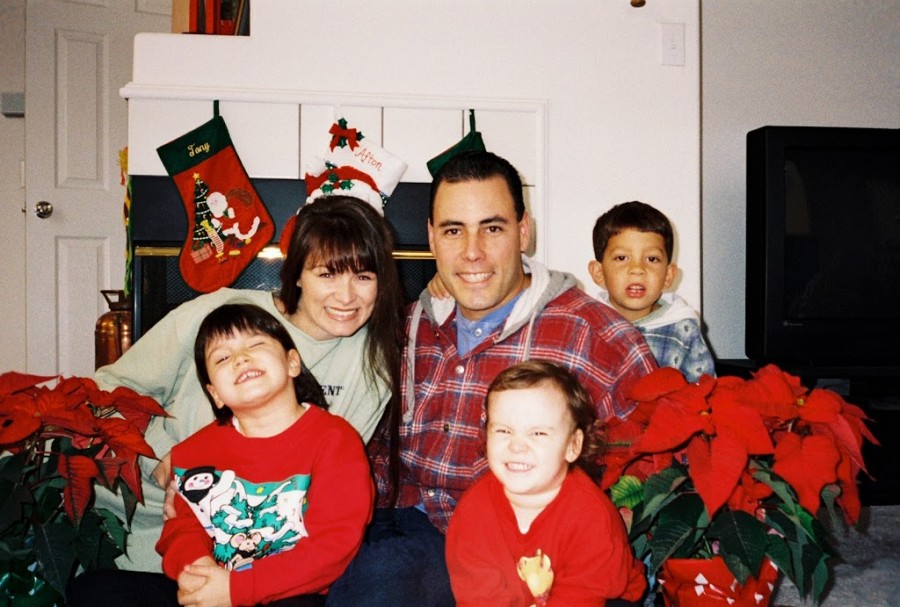 Christmas
1997
.  Audriana was in month 10 of her recovery, and she still had a long road ahead of her.  But even in this photo you can see the huge change just in her appearance.  Her smile was starting to even out as the facial muscles on the right side started to recover, her hair was growing out, and her facial expressions became more and more animated. She still could not talk well at this time.  It was very hard for her to get her words out correctly.  She was very quiet because of this. She was able to walk alone at this time, but she was very unsteady and needed help up and down the stairs.   We were doing therapy in our home at this time, some 7 – 8 hours a day of constant stimulation for her brain.  I did it, with Rich's help when he was home, and we also had 3 sets of volunteers that came into our home every.single.day of the year to help.  It was a very
intense program
, but we felt by doing it we were giving Audriana the best chance at recovery.
There was a lot of growth in those last few months of 1997.   And look – even Afton grew some hair! This photo took a long time to coordinate, and Tony had grown very impatient.  He was supposed to be right there between me and Rich, but he kept moving and finally just kept one hand on Rich's right shoulder and that's all he would do.  So, we just snapped the photo (it was on a timer) and this was the best shot out of the bunch.  Oh well.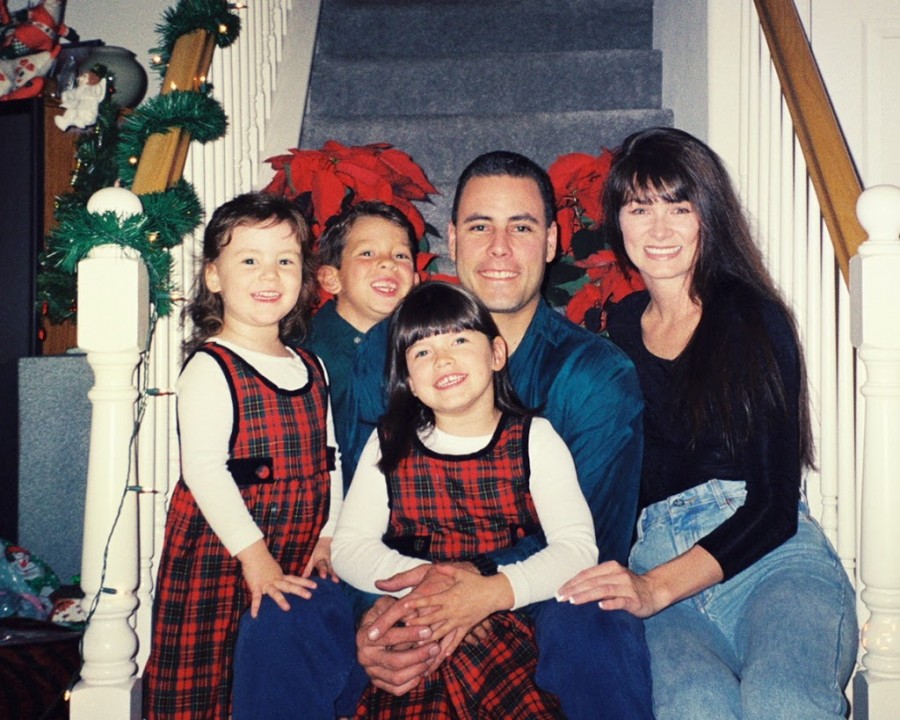 Audriana's hair is growing more and more, and her smile has improved. A year later, and at this time she began walking up and down the stairs unassisted.  She still did her therapy 7 hours a day in our home, still with all the volunteers.  She began talking faster and with more normal tones and animation to her voice.  Her right hand was a little looser at times, but she still had no control of it.  Her limp was less pronounced, and she began a running program where she would run a couple of miles a day.  She did not (and still does not)  show her limp when she runs.  She has a normal gait while running.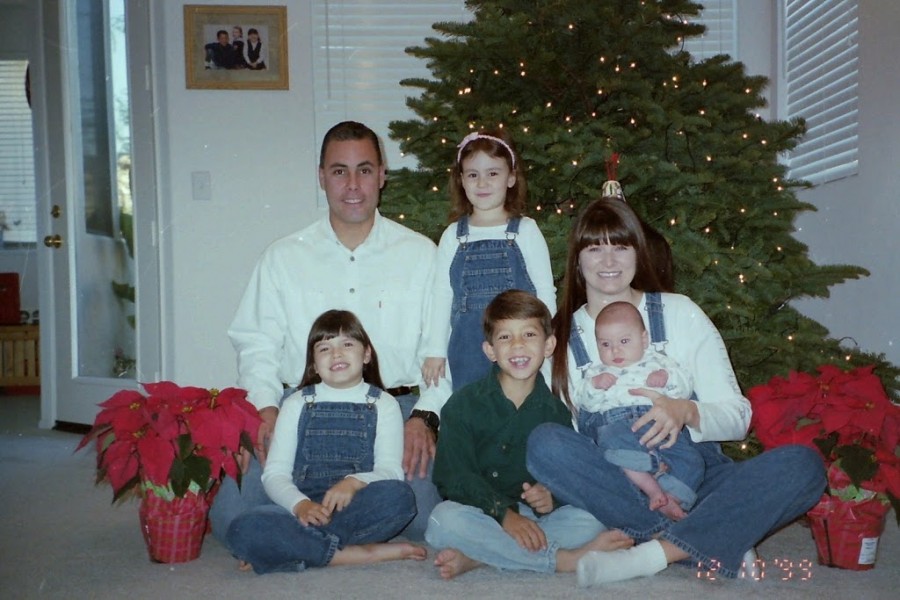 (with new baby Alex)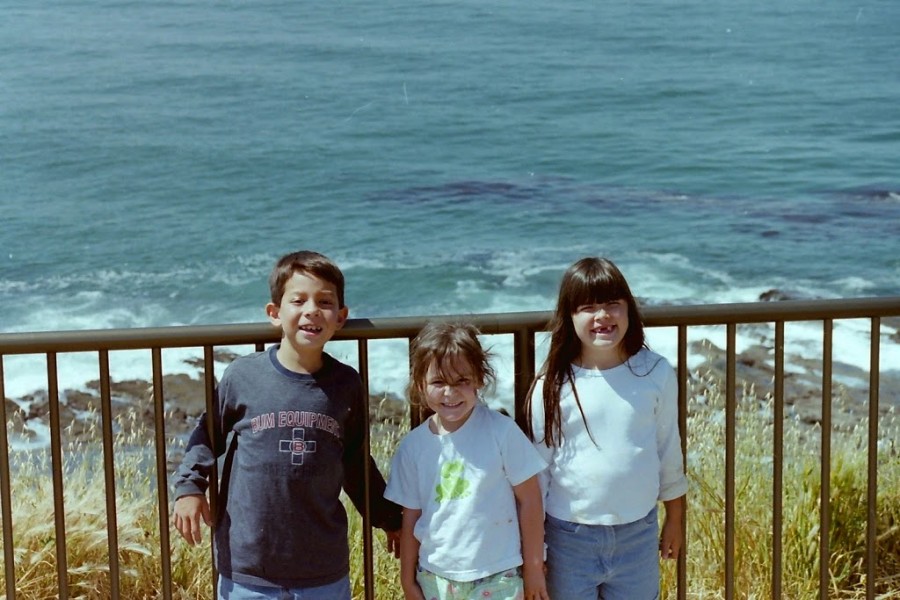 Summer 2000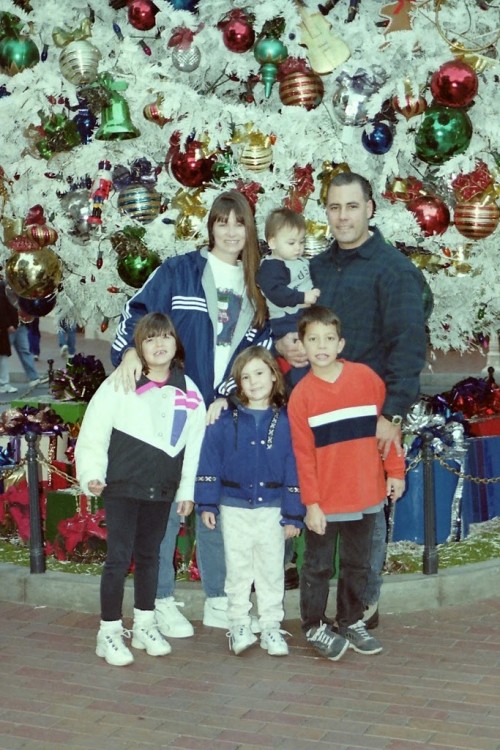 7 years old with short hair!
She had an eye surgery this year to pull her left eye back "in" so that her eyes were straight again.  She got tired of kids asking her, "Why does your eye go that way?"  and so she asked us if she could have this operation.  It doesn't help her vision, but just greatly improved her appearance, which became important to her once she started school.
2001
Audriana at her horse therapy…. and our Christmas photo that year (with new baby Avery)
(with a whole bunch of new babies, LOL – A.J., Aislynn, Andrew & Aria)
(skipping a few years here for time's sake!!)
Over the years you not only can witness our family grow (ha ha) but you can see Audriana's recovery progress as well.  In each year's photos she looks more and more like her old self.  Well, I guess not really her "old self", being that she was only four years old at the time of her accident, and really – how many of us were just as we were when we were four?  But what I mean is, you can see just by her appearance in photos the different stages of her recovery.
It has been quite a road, that is for sure.  And with brain injuries, there is never really any "end" to the recovery.  It slows down some, as the years go by, but she will always be recovering from her injury.  Not only is it a recovery for her, but it's a recovery for us as well.  We've had to get used to our new normal and ultimately find happiness in the brain injury world, which had become our world overnight.  It wasn't always easy, as there is a lot of sadness  going on in this brain injury world as you mourn for what was lost, but there is a lot of joy here, too.
There are lessons in every single thing that happens to us in life.  With Audriana's accident, I have learned so many things.  Here is a short list of some of my most valuable lessons:
I've learned that just because you give birth to a healthy baby, physically and mentally perfect in every way, doesn't guarantee that he or she will always be that way.  
Having a child with disabilities isn't the end of the world.
Don't believe everything that doctors tell you.  They can't be sure of every outcome just based on their past experiences.  If we believed what all the doctors told us about Audriana's probability of recovery, we would have had low expectations of her and thus hindered her enthusiasm and motivation to get better.  Instead, we believed she would WALK out of the rehabilitation hospital at the time of her discharge, and we told her this, and guess what?  She did just that, surprising all the staff.  But we were not surprised.  We knew.
Friends and family do not always know what to say or how to respond when you have a tragedy in your life, and you have to forgive them for that.  There was a time when you probably didn't know how to, either.
I've learned that you waste precious time when you mourn the past.  It keeps you from enjoying all that you have in the present.
I've learned that I'm stronger than I thought I was.  You know how you always think, if that happened to one of my kids, I could never live through that, or I could never deal with that?  Well, I once thought that way.  But I surprised myself.
In marriage, you need to know that how one spouse grieves is not necessarily how the other spouse grieves — and that's okay.
I've learned how not to sweat the small stuff!  There are few things in life that are serious enough to worry over…and whether or not my child gets an "A" on a spelling test isn't one of them.
Just because a person cannot move their body correctly or they cannot talk doesn't mean that they cannot understand everything you say to them perfectly fine.  There is no need to TALK LOUDER …..or…..more…..s-l-o-w-l-y…… to a brain injured person.  They can take things "in" just like you and I can — it's getting things "out" that is hard for them.  (this used to happen to Audriana all the time, and it would really get her angry.  She hated when people talked to her in a slow, baby voice…or really, really loud as if she were hard of hearing.)
I've learned that each and every day spent with our children is a gift and not to take one second for granted.   When I say that I get that, I mean that I really, really GET THAT.  When you almost have one of your children taken away, you get that one pretty quick.  It's a life lesson that I will never, ever forget!